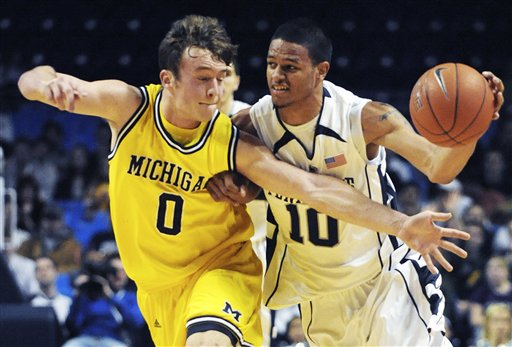 Talor Battle scored 14 points, grabbed 11 rebounds and dished out six assists to lead Penn State to a
55-51 victory over Michigan at Crisler Arena
Saturday night. The Nittany Lions (10-16, 2-12 in Big Ten) won for the first time in Ann Arbor under Ed DeChellis and for the first time since 1999 overall. The Wolverines (13-13, 6-8 in Big Ten) squandered an opportunity to get back to .500 in conference play and maintain an outside shot at an NCAA Tournament bid.
PSU's Jeff Brooks scored all nine of his points in the second half and nailed a
crucial jumper with 14 seconds left
to extend the Lions lead to four and break what was nearly an eight-minute scoring drought. The Lions were able to sustain their cold spell and make up for it on the defensive end, as Michigan shot a mere 35% from the floor in the game and a putrid 1-12 from 3pt range in the second half.
Penn State will be back in action this Wednesday against #13 Ohio State
, who picked up a key 74-67 road win in East Lansing today over Michigan State. This will be a tough task for PSU, but riding a two-game road win streak and heading back home to the friendly confines of the Jordan Center, anything can happen.
Gametime is set for 6:30 p.m. EST, as Pete Jensen and Eric Reed will bring you the live call from the arena. Ryan Staloff will host the pregame show, which will kick off at about 5:55 p.m. EST. On tap for the pregame show is an
exclusive interview with former PSU standout John Amaechi
, a booth pop segment with Jensen and Reed, as well as our weekly "Sounding off" segment with clips from Ed DeChellis' weekly press conference.
-Jensen